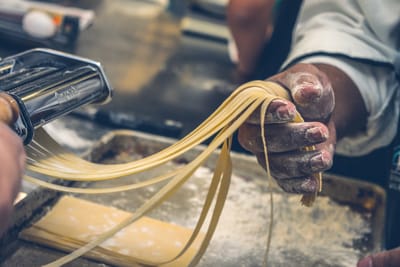 We opened Federico's with a very clear idea in mind – achieving the full expression of our devoted passion to the inspiring delicacies of the authentic Italian cuisine, and to do it in a constant celebration of life, color and flavor.

We wish to give you this warm invitation to indulge yourself with the intoxicating flavors of the Italian cuisine, and enjoy an unforgettable experience of the authentic Italian aromas and flavors we at Federico's love so much.

We take pride in our choice to strictly use fresh produce weekly delivered uniquely from various regions in Italy, especially for Federico's, allowing us to realize our dream of offering the real and original Italian flavors to our clients.

Get addicted to the seductive smells of the freshly baked dough as it rests in our Italian brick-stove, fall in love with the tastes of our freshly handmade pasta, made fresh every day with the loving caring hands of our dedicated chef, and offer a toast to the good life and the love of food with our supreme Federico's house-wine.
We offer nothing but the highest standard of hospitality, an Italian mixture of homeliness and warmth alongside a professional non-compromising service, for a full spectrum experience of every guest in our restaurant.

Federico's menu includes a very rich variety of starters, main dishes and disserts, alongside a wide variety of excellent Italian wine collection.